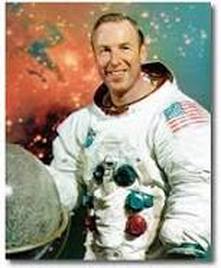 3, 2, 1-----Blast Off!
Ready for an awesome odyssey of mindfulness and playfulness, called "Creativity?"
The POWER OF THREE seamlessly teaches Fluency, Flexibility, Divergent Thinking (Originality) and Mental Imaging skills in a fun way. The interactive activities found here will help sharpen your innate inventive abilities with this gymnastic workout for your brain! (You'll get OUT of it what YOU put into it! So think a lot and work hard!)
Innovative Thinking Skills are desperately needed to help keep us on a cutting Creative edge, and to show how we can make the world a better and KINDER place to live and grow.
Let me tell you a personal story that made a big difference in my life, and in the lives of hundreds of children I've touched.
While attending the college graduation ceremonies at Washington and Jefferson College in Washington, PA, USA of my youngest sister, Alexandra K. Nolan, I heard the famous
U.S. Astronaut, James A. Lovell
, give the Keynote Address. The distinguished guest, one of only 24 astronauts to have been to the Moon, and the recipient of the Congressional Space Medal of Honor, rightly first congratulated the students and their parents for reaching this fine and high level of accomplishment for which they could feel justifiable pride. But it wasn't long afterwards before he went on to admonish the capped and gowned graduates, saying that although they now thought they were finally finished with their "A "to "Z" formal studies, they truly had just begun to scratch the surface of what would be a lifelong journey of education. He chided the students to REALLY read as much as they could, and then surprised the audience by joyfully announcing that Dr. Seuss was one of his favorite authors. All doubts as to why Astronaut Lovell chose Dr. Seuss fell by the wayside as he went on to quote from Dr. Suess' intriguing "On Beyond Zebra."
"The A is for Apple, the B is for Bear,
The C is for Camel, the H is for Hare,
Through to Z. Z is for Zebra, I know them all well,"
Said Conrad Cornelius O'Donnell O'Dell.

Then he almost fell flat on his face on the floor,
When I picked up the chalk and drew one letter more!
"In the places I go, there are things that I see,
That I never could spell if I stopped with the Z!"
It was a lesson I never forgot, and I quickly passed that poem on to countless numbers of children I taught in the ensuing years until I retired several years ago. But one never really retires from learning or teaching. So now with the World Wide Web, I have this wonderful opportunity to bring a renewed Energy, Enthusiasm and Excitement for learning to a whole new realm of learners.
I'd like to dedicate this page to Ralph Salaya, an engineering friend of mine who passed away last week.
I was behind in the reading of my morning newspapers, so only this morning did I read about the passing of my wonderful friend, Ralph Salaya, in the Beaver County Times by Gino Piroli, called "Aliquippa grad helped bring Apollo 13 astronauts home." Ralph was originally from our area, but moved out to California in 1959 after a lengthy mill strike here in 1959, and by 1961, was working for Rockwell International to design and build a command and space module for the Apollo program.
Ralph used to come back to Aliquippa, periodically, to see his relatives and friends, and always found time to come to his old St. Elijah church, too. I'll never forget the one time I was sitting in the pew (before joining the choir), and out of the clear blue sky, in the middle of the service, I received a surprise kiss on my cheek from Ralph. "I tried to wait until the service was over, but I just couldn't!" Ralph whispered as he sat down behind us in the pew! He had left his sister on the other side of the aisle. He was such a delight and bright light to all who knew him. He had that sweet, but boyishly devilish manner about him you couldn't help but love! We all loved Ralph! (He had a beautiful wife, Elaine, three children and nine grandchildren.)
"Many years earlier," Gino wrote in the August 6, 2013 C5 section, "when the explosion on board the Apollo 13 left the spaceship crippled, Ralph was the lead engineer for the guidance, navigation and control system, and one of the ones responsible for designing a strategy to bring that capsule safely back to Earth."
Remember the movie "Apollo 13" starring Tom Hanks? It documented the heroic efforts of the NASA engineers to bring them home....
Ralph retired in 1990 in Escondido, CA, but his work hadn't been forgotten. During a later moon walk, astronauts planted a plaque on the moon with his name and others who had worked on the Apollo project.
On August 20, 2003, almost 10 years ago that would be, I had a story appear in the American SRBOBRAN about Ralph and his reporter friend, Gino Piroli, called "Moon Over Moon Township, Not Miami: A Visit with a Famous Californian and King Peter, who Discuss OPANKE footprints on the Moon." It was all about when the two of them came to my house for lunch and how we laughed and laughed at their childhood remembrances and the pranks they did. Gino, 100% italian, but with a 101% Serbian heart, tells how they couldn't afford to get into the hall to see King Peter, so he and a few friends snuck in through a back door window! Ever since then, Gino had the nickname "King Peter."
I'm sorry Ralph, my hero, is gone, but I'm so grateful for all the wonderful memories I have of him and Gino (King Peter!) here in my kitchen, and of Ralph's special "HELLO!" in church! May his memory be eternal......
Also so grateful that Gino, who graduated from Aliquippa High School in 1943, is still able to write and bring us these reminisces. They're planning a 70th high school reunion luncheon in September! God bless them all with their fortitude! But I KNOW they'll miss Ralph! That's the old WWII generation.... they plow on!
Select from below to read more:
Power of Three app
Creativity and Innovation
Blog
Bio and 3s
News and Contact