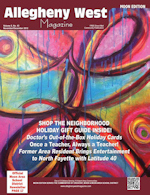 There are not enough words to thank Pat Jennette for my appreciation for this wonderful story that she wrote recently in the Allegheny West Magazine's Nov-Dec. 2012 issue, found on page 38. Not only is Pat the author, she is also the EDITOR and OWNER of the multi-award winning magazine. Pat has utilized her 30 years of experience in journalism, business and educational public relations, community and business marketing, and publishing to provide the community with quality publications. I'm so grateful! So once again, thank you so much, Pat Jennette!

ONCE A TEACHER, ALWAYS A TEACHER

How many sides does a triangle have? How many branches of government are there? How many fingers does a scout hold up when saying the pledge?

If you answered three to all of these, you are correct!

Mim Bizic of Moon Township, a former librarian and teacher in the Quaker Valley School District, is three times happier than ever now that her App, "The Power of Three," has been approved for purchase and use through the Apple iTunes store.

I would like to think of my App as brain candy," she says, smiling.

This energetic and enthusiastic lady, who has been written about before in this magazine for her undying support of her grandparent's native land, Serbia, spent the past year working on her App with the help of two Indian colleagues she met through LinkedIn online, Dilip Kumar of GreatMinds-Media and Aleysha Deane. Dilip helped Mim create the App, while Aleysha designed the graphics to incorporate into the application. Some of the graphics come from Mim's own experience, too, including a scene from Edgeworth Elementary School library, where she worked for many years. It was painted and presented to her when she retired. Mim does the voiceover throughout the App. She incorporated other familiar aspects throughout the program, too. For instance, the librarian is named Miss Karlo, which is Mim's maiden name, in honor of her late father who had three married daughters and none to carry on his name.

This interactive educational program evolved from a story Mim wrote back in 2004 called "The Power of Three." It is about a young, shy student named Johnny who was afraid to speak up in the classroom."

He knew a lot about particular topics, but was not forthcoming with his knowledge for fear of being rejected. She submitted the story to a publisher, but it wasn't picked up.

"I was disappointed, and I sat around thinking about it, and decided an App would work with my story!" Mim says.

It was a natural transition for Mim. She has a long history with Apple computers, and is a pioneer in her own right regarding technol- ogy and the Internet.

In 1995, she and fellow innovators, Dr. Robert Fusco and Dr. Joseph Marrone, developed SewickleyNET, an online presence for the community of Sewickley, among the first of its kind.

As a result, the three of them, along with the SNET Board of Directors, accepted a "Citizen of the Year" award from the "Sewickley Herald" in 1997.

During her 40-year teaching career, much of it with the Quaker

Valley School District, Mim was recognized as a leader in the imple- mentation of the computer program for the district, based on her extensive knowledge and her enthusiasm for incorporating technology into students' learning.

Her resume is peppered with recognitions and awards for her innovative teaching and use of technology. She has been invited to sit on many boards and educational committees from the local to national level to advise educators on the use of technology.

In order to set up all that was involved with creating an App for purchase by educators, parents, and others, Mim established an educational company called Bizic Education LLC.

She describes "The Power of Three" as an easy-to-follow application that helps children in grades three through five build fluency and flexibility skills and strengthen divergent thinking.

"I wanted to create a program that would help young children get fired up about their own talents," she explains. "And I also wanted to tell Johnny's story in order to help young people understand the importance of empathy for others."

The App incorporates Mim's own experiences and activities she once used in the classroom. Knowing that teachers come in the form of parents, educators, and life experiences, she is confident it can be successfully incorporated into classroom curriculums throughout America or work equally as well in a home setting.

The easy-to-play and interactive program begins in a schoolyard where participants are encouraged to find hidden students in the picture. When they find the children, Mim's voice on the screen announces, "Great job!" which readily draws them into the story and the thinking challenges that follow.

In another scene at the library, Miss Karlo challenges the students to write down as many things as they can think of that have to do with the number three.

The children at the end of the story send inspirational messages such as "Alexander the Great said, 'I am indebted to my father for my living, but to my teacher for living well,' " and "Johnny proved sometimes great things come in small packages."

Mim has established a Web site, www.mimbizic.com, that helps users find all the hidden "treasures" in the story that might be missed the first time through, and also suggests further challenging activities that students, parents, and teachers can do with the number three from exciting math challenges like writing the number three in Binary or Base 3 or applying spreadsheet math to the importance of the number three in sports, music, and literature.

Interactivity is reinforced with a keyboard that automatically pops up and helps keep the creative thoughts going.

As the activities continue, the students form teams. Johnny's team members realize that he knows a lot, and they develop a new respect for him.

"I hope many will consider purchasing the App (it's only $1.99), so that I can donate a portion of the proceeds, after paying for the startup costs, to orphaned children in Serbia," says Mim.

Combining her love of education with Serbia should come as no surprise to those who know this remarkable lady. "