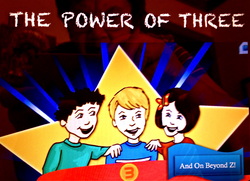 The Power of Three
is finally a reality! I was on the THIRD floor of my Hampton Hotel room in Phoenix, Arizona, USA, when I borrowed my friend Marlene Volitich's ipad to see if our educational story app had gone live yet. Marlene and I were in Phoenix as our St. Elijah Serbian Church Choir from Aliquippa, PA was being hosted by the St. Sava "Stevan Hristic Choir" of Phoenix.
The two of us huddled to see...... It was THERE! It was LIVE!
The
Power of Three
was ON-LINE! It was so hard to believe! What joy we had whooping it up and dancing around the room in celebration that Friday, Sept.28 morning! Finally, after 13 months of effort,
The Power of Three
app had been approved on Sept. 27, a special day for me as its my grand-nephew Brad's birthday, and the day of the Exultation of the Cross---when Empress Helen with the blessings and help of her son, Emperor Constantine, found Christ's cross after many fruitless searches!
In the Power of Three app, Brad yells way too loudly for his own table's good, "Trident! Trident! Put that down. No one will think of that one!" Well, they might not have thought of "trident," but probably all the other tables would have that answer now too, resulting in his great
contribution being worth only 1 point now, rather than the 5 points he could have earned if no other tables had the same answer. :-)
But we all know what enthusiasm is like, so Brad can certainly be forgiven. The night before I left for Phoenix, rather late I night, I saw a message from Apple Developers Support team announcing that the app had been approved. Instantly I put out the message on Facebook for all to see, but not before congratulating my fellow Bangalore, India team mates, Dilip Kumar and Ayesha Deane, on the app's next step. We celebrated by virtually
clicking on our imaginary bottles of champagne on two different continents! You now, can also be a part of this winning team. Click here and get started using your creativity in a fun way!
http://itunes.apple.com/us/app/power-of-three/id563105854?mt=8