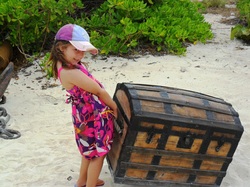 Author Frank McCourt wrote, "Your mind is a treasure house that you should stock well. It's the one part of you the world can't interfere with."
My grandchild, Jocelyn, is shown here in a photo I recently took while we were on a Disney cruise to Castaway Cay. I smiled as I saw the excited look on her face, as she questioned and wondered if this chest just laying in wait for us could be opened, and what treasures might be inside. Unlocking such a treasure chest full of gold, emeralds and rubies is the secret dream of many of us. And yet, within us, we each have our own treasure chest, our minds, and as the ads always remind us, "A mind is a terrible thing to waste."

I hope to keep this blog filled with words that inspire and help others learn more about creativity and innovation. We have to continuously search for imaginative and useful ideas. The Power of Three app that my colleagues Dilip Kumer, Ayesha Deane and I have just about completed is a step in that direction. The app tells a great story about a young fellow named Johnny who rarely seems to have social success in the classroom until the teacher introduces a lesson that might just highlight his skill sets. This story is close to my heart, and as Thomas Carlyle wrote: "If a book comes from the heart, it will continue to reach other hearts." I hope once you've seen the story app so beautifully illustrated by Ayesha, you'll agree. Readers of all ages will find a gem here and there on unlocking their own creative thinking skills of Fluency and Flexibility,Originality and Divergent Thinking. You'll feel your own mind power grow with success as you unleash a torrent of your own words or phrases in the typewriter mode so skillfully built into the app by diligent app designer Dilip.

We've created these memorable educational experiences to highlight learning opportunities for you. Come on! Let's open the chest right now..... ready? Inside I see the words HOCKEY, LAYERS OF SKIN, WWW, and TRIPTYCH and "THE BUTCHER, THE BAKER, and THE CANDLESTICK MAKER" and LITHIUM. What can you make of it? What do these words all have in common? If you're into mental challenges, this app is for you! Past, Present and Future!

Magic, they say, is only a breath away. I'm hoping you will find this blog enjoyable and that you will then share this with others. "No one can whistle a symphony. It takes an orchestra to play it." H.E. Luccock)

P.S. The App is almost ready to go live! Stay tuned!

PPS: There's an old Jewish saying that says, "Who finds a faithful friend, finds a treasure." A huge "Thank you!" to all of my friends who have taken the time to comment!"