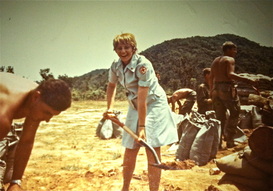 Dr. Rose K. Gantner in Viet Nam in 1967.
The poem called
"Passion of Life"
found below was posted today by
Elizabeth Gjelaj Merturi
on our Linked-In Poetry Forum. Elizabeth is quite passionate about sharing great poetry with others and most likely that combination of Poetry and Passion was somehow responsible for her multiple "Who's Who In American Teaching" honor awards in the years 1998, 2000, 2001, 2002, 2005, 2012! Thanks for sharing, Elizabeth.
Passion is a wonderful thing to acquire early in life. Take
Chris Burnham
, a former elementary gifted student I had the pleasure of knowing from first through sixth grade. He ALWAYS wanted to be a comic book illustrator from his earliest childhood years and today he is making worldwide headlines with his Batman Incorporated issues. Check out his passionate work by clicking the link on his name above!
Sister
Dr. Rose K. Gantner
, began the Preface of her newly published book,
Workplace Wellness: Performance With A Purpose
by writing: "Purpose found me early in life. In my twenties I left a university teaching position to serve two tours of duty in South Vietnam with the American Red Cross." And ever since she's been making a significant difference in the Health and Wellness fields, bringing that purpose, know-how, and passion to others in countless ways. So much so, that Robert Morel, CEO of HHI Healtcare Solutions wrote in a testimonial:
"If you read only one book this year, America, it definitely has to be this one."
I'd say that's a pretty passionate statement in itself!
Here are a few inspirational quotes about
Passion and Purpose
I found exceptionally moving:
Above all, be true to yourself, and if you cannot put your heart in it, take yourself out of it.
-- Author UnknownChase down your passion like it's the last bus of the night. <-------LOVE THIS!
-- Glade Byron AddamsOnly passions, great passions, can elevate the soul to great things.
-- Denis Diderot
And this next quote made me smile, as for the first five years of my teaching, I wondered why I was getting a paycheck! I considered myself SO lucky to have found my purpose and passion, knowing I would become a teacher in third grade!
If you have ever felt such tremendous enthusiasm and desire for something that you would gladly spend all your waking hours working on it, that you would happily do without pay, then you have found your passion.
-- Sharon Cook & Graciela Sholander
(After the five years, I figured I needed just a little monetary reward to get me up EACH morning at 6:00 AM, but always LOVED what I did, and I think that was reflected back to the students, their parents and the community, which made for a winning Partnership, a passionate combination of excellence in education.)
May you always have great passions and creative endeavors!
Passion Of Life
To achieve something great in the world you need Passion
To fulfill vision, a great leader's courage comes from Passion
Whatever it may be, you must find your Passion
If passion drives you, let reason hold the reins
Follow your passion and success will follow you!
Never underestimate the power of passion
Without passion religion is spiritless
Without Passion history is meaningless
Without Passion art is useless
Follow your passion and success will follow you!
When you take up a mission with passion
There are no dreams too large
No innovation unimaginable
No frontiers beyond reach
Follow your passion and success will follow you!
Our passions are the winds that propel our vessel
Our reason is the pilot that steers her
Without winds the vessel would not move
Without a pilot she would be lost
Follow your passion and success will follow you!
There is no end and there is no beginning
There is only the passion of life
Passion is universal humanity
Passion is the genesis of genius
Follow your passion and success will follow you!
POOJA NATARAJAN