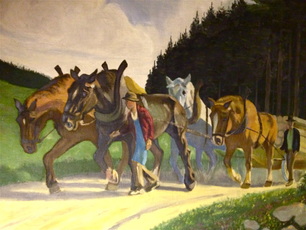 While trying to clean up some papers that seem to be everywhere these days, I came across one that I thought was worth sharing, even though I wrote this on 12/30/90, almost 22 years ago! It was fun to review and see how many things have changed technology wise, but the philosophy remains the same. Let's take a look! What I wrote in 1990:

"I believe the best gift I ever gave myself was becoming a teacher, and that Knowledge +Energy+Excitement and Enthusiasm for learning=EXCELLENCE in teaching. I believe children should learn how to work cooperatively with other students, focusing their creative energies on solving problems. I believe that America's children can not be passive recipients of an education, only interested in long trysts with the television control dials (and computers and iphones now!) but instead, must become active participants, expressing their knowledge and attitudes through constructive channels.

IT TAKES WORK! HARD WORK! TEAM WORK!
(See photo above--TEAM WORK--All working/pulling TOGETHER!)

"The teacher's and parents' role here is one of guidance, making students WANT to accept more responsibility for their own learning, through the development of skills involving needs assessment, goal setting, planning, organization, implementation and evaluation. I believe that creativity can be taught through useful strategies such as the SCAMPER technique, Bloom's taxonomy, and Williams' Levels of Creativity. I believe in encouraging students to be risk takers, willing to run alone, to value humor, curiosity and serendipity. I believe in continuous positive feedback, trying to help each one develop a good self-image in regard to his/her potential and use of it. I emphasize these 'C's and 'P's for self esteem: Genuine caring for self and others; challenge, commitment, confidence, choice....taking responsibility for individual actions and learning. The 'P's include PRIDE in self and others, praise for self and others, plan, purpose and play. I believe in helping students understand the usefulness of taking time to focus the forces of their minds, to invite the Unconsciousness. I favor a total immersion approach, bringing targeted civilizations or other subjects to life through in-depth studies that combine science, math, history, language arts and geography.

"Learning should not be stifled by regulating it to the classroom alone. Teachers must form partnerships with their students, their parents, the community, other teachers and students across the nation, and indeed, across the world. Every day the world is shrinking due to breakthroughs in technology. Tonight, via my modem and the AGE (Apple Global Education) project, I was able to read about the environmental concerns of students from the U.S.S.R., Mexico, Denmark, Sweden and Canada. I read shared folk tales from all parts of the globe, including Africa and Australia. I was at Helen Thayer's side when she reached the North Pole. Internationally, children are conducting experiments together, like the one on Acid Rain I saw, or measuring shadow sticks around the world. (We DID participate in these world-wide projects then too!) Others are conducting surveys--seeing how alike or how different they really are from neighbors across the globe. America---the WORLD---needs as many educated people as possible to make our time on this planet the best it can be.

"In this day and age, students cannot be expected to learn from textbooks with a teacher using the old lecture method. Involvement counts. It's impossible for each teacher to be an expert on every subject, so teachers must reach out and pull the world in. At my school, we have many people who volunteer their expertise. Some of our wonderful projects include NATURE GUIDES where the students are taken out to the park to study birds, insects and plants. ART IN MOTION is another program where a beautiful print travels to a different classroom each moth, but not before a knowledgeable parent volunteer tells all about the artist and his/her work. The SEWICKLEY VALLEY HISTORICAL SOCIETY teaches local history through slides and artifacts. We have visits from "Betsy Ross," scientists, doctors, patent lawyers and parents who are willing to share their work expertise or various religious backgrounds and cultures with us.

"I believe that public school education is the one way we can be assured that our values, culture, and ideals of American democracy are passed on to ALL of our children....that hard work is its own reward, and EXCELLENCE, not mediocrity, is America's goal. Public education is our truest form of national defense, a very essential component of an enlightened nation. I believe that this is the time for us to be challenged, not intimidated, by the many forces trying to pull us down: crime, unemployment, divorce, overcrowded jails, homelessness. (Can you just imagine how many more problems we have now, with Drugs and Addiction and Child Pornography and Civil Unrest and Upheaval throughout the world leading the way!) We must realize that only by taking the time to focus our forces together, and pulling in the right direction, will we have the empowerment to affect change. Otherwise, the changes will be made for us."
---------
Bloom's Taxonomy used to be: Knowledge & Comprehension, Application, Analysis, Synthesis and Evaluation. Today it is more commonly viewed as: Remembering, Understanding, Applying, Analyzing, Evaluating and Creating (Putting elements together to form a coherent or functional whole--generating, planning or producing.) Here's a link on Bloom's Taxonomy by Mary Forehand, from the University of Georgia: http://projects.coe.uga.edu/epltt/index.php?title=Bloom%27s_Taxonomy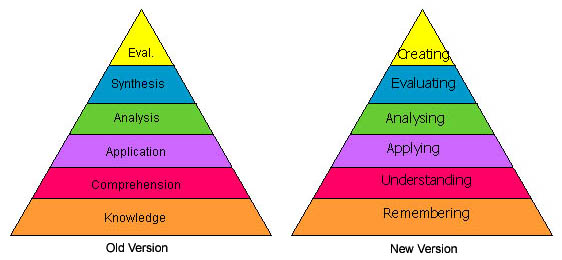 There was another letter explaining some of the things that went on in our classroom that I'll share in the next post! :-)
But in the meantime, for those of you unfamiliar with the SCAMPER technique to promote innovative thinking, I share the 3 posters below.


SCAMPER posters from: http://www.google.com/search?q=scamper+method&hl=en&client=safari&rls=en&prmd=imvns&tbm=isch&tbo=u&source=univ&sa=X&ei=Vaz8T7u5FKLz0gHcprDpBg&ved=0CFcQsAQ&biw=1227&bih=861
Looking at the photo of the painting above of the horses pulling together and the teamwork shown, I found this appropriate quote: "Two are better than one; because they have a good reward for their labor. For if they fall, the one will lift up his fellow: but woe unto him that is alone when he falleth; for he hath not another to help him up."
-- The Bible: Ecclesiastes 4:9-10.